As the sun sinks below the horizon, a few of us might notice the fluttering of wings and dark, fleeting shapes against the twilight sky. These mysterious creatures, bats, have lived in harmony with humans for ages. Yet, when a bat infestation crops up, homeowners across Canada find themselves struggling to keep bats away from their living spaces.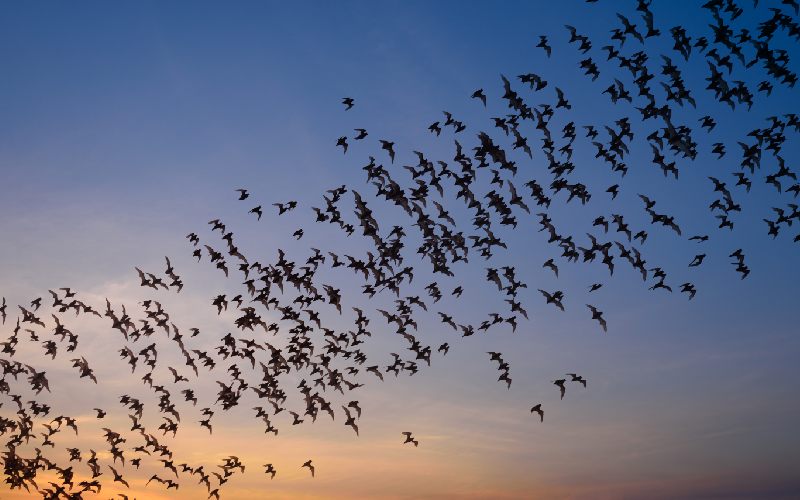 Understanding the Bat Problem in Canadian Homes
Bats are essential to our ecosystem, managing bug populations and aiding in pollination. But when you have a bat in your home, it can raise concerns about health and cleanliness. Bats, like the big brown bat and the little brown bat, are common culprits behind such infestations. Knowing the species of bat causing the bat problem is the first step in getting rid of them.
Types of Bats: Who's Taking Residence in Your House?
Two prominent species dominate Canadian homes: the big brown bat and the little brown bat. These brown bats, while seemingly innocuous, can form a large colony of bats in attics, basements, and walls. Recognizing the difference between bat species helps in applying appropriate bat control measures.
Signs of a Bat Infestation: Is a Bat in Your Home?
Bats are nocturnal, meaning they're active at night. This can make them hard to spot, but bat droppings (or bat guano) are a telltale sign of their presence. If you notice accumulations of droppings, it's likely you're dealing with a bat infestation.
Why Do Bats Choose Your House?
Bats are often lured into residences in search of warmth, safety, and suitable birthing spots. Homes that present undisturbed nooks, cozy crevices, or warmth-emitting areas become enticing havens for these nocturnal wanderers.
DIY Bat Removal: Is it Safe and Effective?
While getting rid of bats might seem straightforward, it's essential to approach the situation with caution. Since bats are protected species, it's illegal to kill or harm them. DIY measures can include repellents or homemade devices to deter bats. However, remember, some repellents can be harmful to bats or ineffective in the long run.
Professional Bat Removal: When to Call the Experts
Facing a significant bat infestation or unsure about dealing with bats? Trust professional bat removal services. Armed with specialized tools and expertise, they ensure safe, humane, and effective bat management in your home.
Installing a Bat House: A Solution or Invitation?
Contrary to popular belief, a bat house isn't an invitation but a solution. These structures divert bats from your home, giving them an alternate roosting spot. By installing a bat house, you're not just getting rid of bats from your living space but also helping in bat conservation.
Preventative Measures: How to Prevent Bats from Entering Your Home
Prevention is always better than cure. To prevent bats from making your home theirs:
Around Your Home: Modifying Environments to Deter Bats
Maintaining your home's surroundings can play a pivotal role in keeping bats away. Trim trees to reduce the chances of them becoming a roosting spot and maintain a well-lit yard, since bats prefer dark, secluded areas.
After the Removal: How to Clean the Area the Bats Occupied
Cleaning is essential, especially when dealing with bat guano. Bat droppings can be harmful, so ensure you wear gloves and masks during the cleanup process. It's crucial to sanitize the area post-cleanup to prevent any potential health risks.
Final Thoughts: Embracing Coexistence While Keeping Bats at a Distance
Bats are not our enemies; they're fascinating creatures that play a crucial role in our ecosystem. By understanding their habits and using the right measures, we can ensure a harmonious coexistence. Remember, bats leave during the colder months, so it's best to implement preventive measures during their absence.

In the dance of nature, bats have their role, and so do we. With a touch of understanding and the right strategies, we can ensure a world where both humans and bats thrive.