Your health and safety are our highest
priority during this time.
Request Your Same-Day
Quote Today!
Wildlife Removal Hamilton
The Humane Wildlife Removal Process
We know other companies may have promised you a humane animal removal process in the Hamilton area, but we really do promise you that and follow through with it. We love animals and don't want to bring harm to them (even though they are in need of pest control). 
Our unwanted wildlife removal experts in the Waterdown, Hamilton, Burlington, and Oakville areas handle all animal and pest control issues quickly and efficiently. We're knowledgeable and reliable and can handle all urban wildlife removal inquiries in a timely manner so you can get back to your routine after pest control.
After determining the species causing the problem, more often than not, we can use our super-effective one-way door method at the point of entry/exit all while ensuring the exterior of the home is sealed and they cannot get in any other way. Once we've humanely caught the animal with the one-way door method, we'll thoroughly repair the entry area we created so no critters can make their way back in! 
Afterwards, we'll relocate the animal and ensure they'll be much happier in their new permanent home, far away from yours! Whether it's a raccoon, squirrel, rat, skunk, bat, or more, we'll handle the problem with a lifetime guarantee so you don't have to. We're a full-service pest control and removal company that can get rid of your persistent pest issues as a gentle and professional service with a lifetime guarantee.
Full-Service Wildlife Control Services
We know the wildlife causing mayhem in and around your home could pose a potential health risk to your family and your pets. This is why we take every measure possible to ensure your utmost safety, but we also want to ensure we get rid of any pests humanely so their life isn't put at risk and they can continue to thrive… somewhere else!
Bats enjoy dry and warm places to stay for the winter and are attracted to chimneys, attics, and walls. Bats can reproduce very quickly, so it's important to be proactive and get on top of the situation if there is any level of suspicion that bats have been living inside your home. Call us today so we can find where the bats are getting in and determine the best course of action to effectively implement humane wildlife control.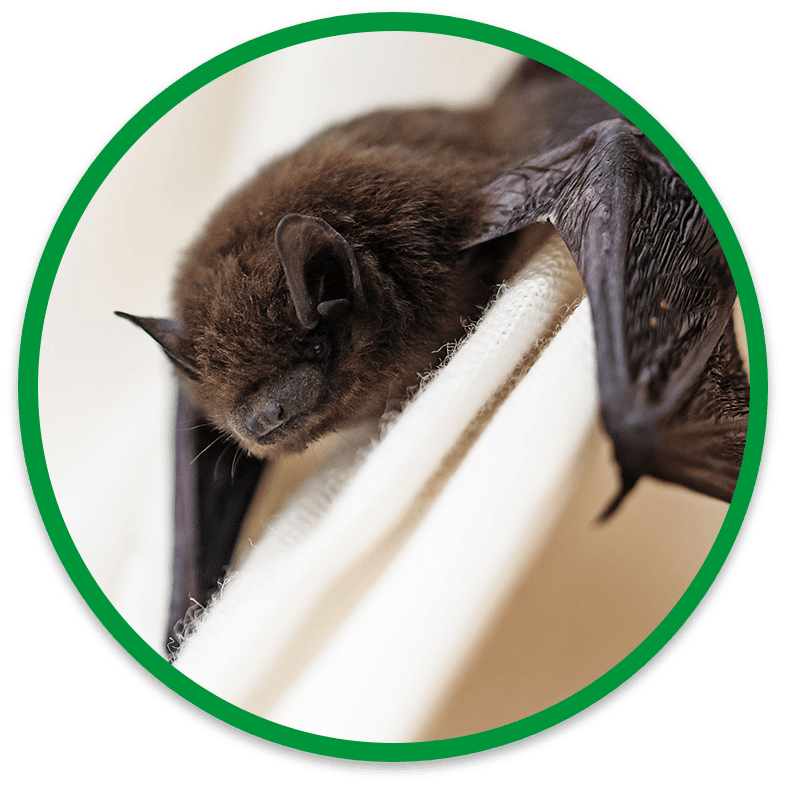 Once the birds get inside, they will start to construct their nests, stuffing and cramming various nesting materials into your vents. Feces and urine inside the vents produce an unpleasant smell throughout your home. Our experts will clear, clean, disinfect, and remove odours, carcasses and droppings and repair any damage. Next, we'll take wildlife control measures so this problem isn't likely to happen again.
When an animal living inside a home or building dies, the carcass can cause different problems and concerns. While a terrible odour is the most common problem, there are also many other issues to address with wildlife control. Dead wildlife control poses a health risk, so you should not try to do this dirty job on your own. Call us immediately so we can implement wildlife control safely and offer solutions on how to get rid of the odour and implement preventative measures to keep this wildlife control problem from recurring. We know how to do an amazing job!
When an animal living inside a home or building dies, the carcass can cause different problems and concerns. While a terrible odour is the most common problem, there are also many other issues to address. Dead wildlife removal poses a health risk, so you should not try to do this dirty job on your own. Call us immediately so we can remove the animal safely and offer solutions on how to get rid of the odour and prevent this from recurring.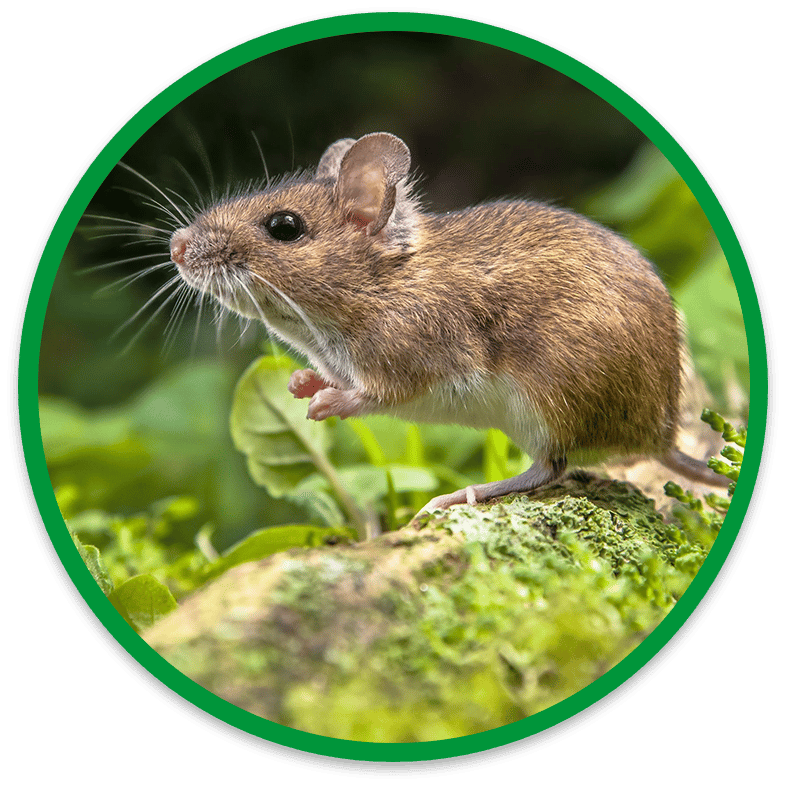 Mice can enter a home through dime-sized holes with ease and they can go unnoticed for quite a while. As a result, things can quickly require wildlife control and you can end up with a home full of unwanted rodents. The key is to implement wildlife control strategically and humanely. In most cases, this involves installing one-way doors once we've determined their entry points. We'll ensure all entryways are repaired and thoroughly sealed once they're humanely removed and relocated.
Pregnant raccoons will often look for a comfortable and safe attic to go to in order to deliver their babies. Raccoon removal is a common undertaking for wildlife control that we handle on a regular basis in the Stoney Creek, Hamilton, Burlington, and Oakville areas. If you suspect you have a raccoon problem, it's time you call us for our humane animal removal and pest control services. We can implement wildlife control to safely and effectively relocate them so you can have a raccoon-free attic again!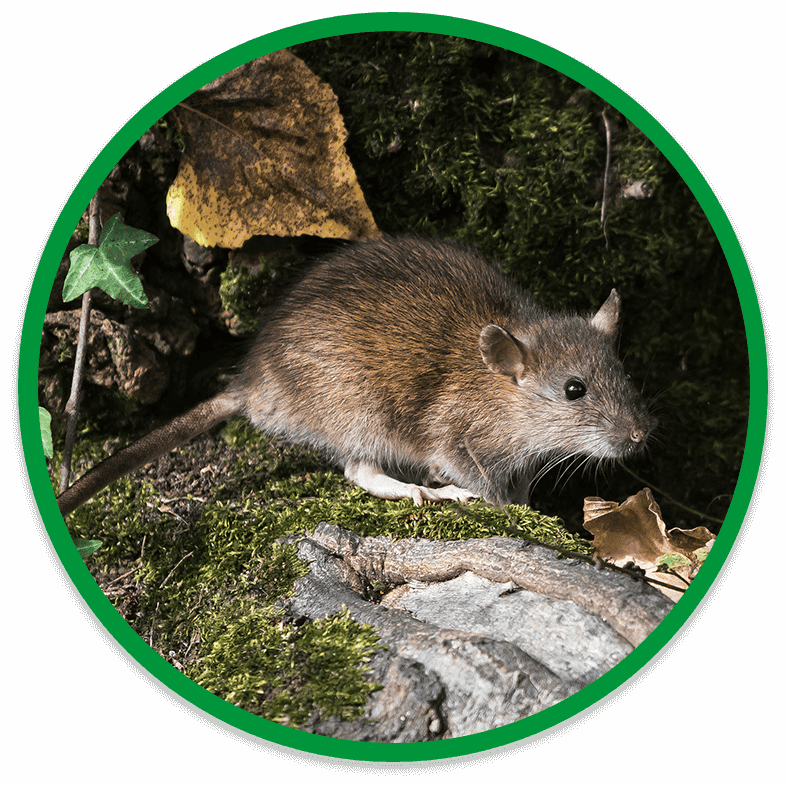 We strongly encourage homeowners not to resort to using poison or glue traps to control their rat problem. We know they're pests and can pose health risks to your family and your pets, but that's why we're here. Wildside specializes in wildlife and pest control by using humane methods on any animal. In fact, using poison and glue traps can pose more of a risk to your pets than anything so leave it to our experts to implement wildlife control, decontaminate the area, and relocate the rats.
Skunks are infamous for the foul odour they emit when mating as well as when injured or frightened. The odour can remain in vents, on pets, or on your clothes for months. Aside from producing a nasty smell, they can cause significant damage to your landscape and your home, so let's work together to get rid of skunks on your property for good. Here at Wildside Wildlife Removal, we provide humane skunk control services so the skunk is never harmed.
When squirrels find a way to get into houses this is especially concerning as they will literally chew on anything that looks appealing to them. When they feel threatened, they can get extremely aggressive so it's not wise to try and remove them yourself. Call us now so we can assess the situation and offer our expert animal and pest control services. We will also work diligently to prevent future occurrences.
Service Locations
Our team responds to wildlife removal requests from Burlington, Oakville, Hamilton, Milton, Waterdown, and the surrounding communities.
Great Service Removing Wild Animals
We are a full-service business that offers humane wildlife control. Our expertise is in the humane extermination of vermin like raccoons, mice, skunks, bats, squirrels, and bats. Our certified technicians, who are licensed, and insured, and only use the most up-to-date equipment and methods, safely remove the animals from your house and keep them from coming back.
We provide excellent service for wildlife eradication and prevention. We commence by identifying precisely which animal species are causing animal problems and wildlife issues for you. From there, we can choose the most effective strategy for getting rid of the beast.
Contact us right away if you're unsure of what you need or if you have any concerns about the professional wildlife control services we offer. We are delighted to respond at any time.
Humane Wildlife Control Services
Our wild animal removal team has compassion for all animals. We ensure encroaching species are taken care of using sanitary and humane procedures. As wildlife experts, we understand the importance of humane animal and pest control. There is no sense in using cruel or lethal methods to address a pest problem if it does not address the root causes of an animal infestation.
Pest control services that use lethal methods may seem like a good idea, but lethal pest control often does not offer a permanent solution to animal infestation problems. Our specialists are experienced in addressing the root causes of animal and pest control issues in order to get your pest problems under control in an efficient and humane way.
Hamilton Humane Wildlife Removal Services
Don't let your home become a refuge for all wildlife. Sure, they may be cute, but raccoons, skunks, rats, bats, and birds alike can cause a lot of damage, leading to unwanted expenses and possibly even health risks. We promise to thoroughly assess each situation and develop the most humane wildlife removal methods possible so the cute critters remain safe, but thrive in a new living space far from your home!
If you have any further questions, don't hesitate to reach out to discuss how our pest control services are the best around! We look forward to helping you gain control of your home again.